Lexus GX 460
Lexus GX 460 Luxury Edition: Everything Drivers Want and More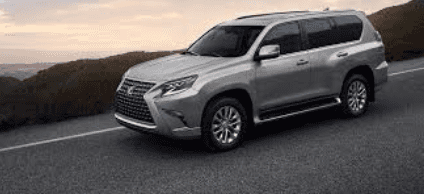 Lexus is a brand that is synonymous with luxury and quality in all that it does. The GX 460 offers speed, comfort, and premium ride quality, along with off-road capabilities that are sure to impress. With a powerful engine and automatic transmission, this large SUV gets plenty of power, and since it's from Lexus, you can trust that the interior is decked out with all of the latest creature comforts and cabin luxuries.
When you choose to drive a Lexus, you're always choosing the ultimate in comfort and quality, and you'll find nothing less in this luxurious SUV. Whether you're commuting around town or heading out for a family road trip, you'll have room for everyone with plenty of plush comfort to go around.
High Safety Standards
Another benefit of buying a luxury brand like Lexus is that you are always getting the highest-rated safety features available because they will provide nothing less than the best. Many of the newer models include advanced safety features standard, giving you more peace of mind with fewer upgrade costs, which is what you'd expect from this manufacturer. No matter what model year or trim you choose, of course, you'll find that they are all fairly well-rated by both the IIHS and the National Highway Traffic Safety Administration (NHTSA).
Impressive Off-Road Capabilities
Since the earliest models, one of the biggest selling points of the Lexus GX 460 has been its off-road capabilities. This vehicle is designed to be taken off the beaten path and gives you more for your money, no matter what you have in mind. From the premium all-wheel drive to the agile handling and tight cornering, you might be surprised that you're driving a Lexus once you take this thing off-road and see what it can do.
Upgrade for More Value
Because this is the luxury lineup, you'll typically find the best values in the mid-range trim. You'll spend a little more than the base model, but you'll get plenty of features and equipment that make it worth the expense. Plus, you won't be making a full investment in the highest trim, which may be unnecessary or more than you can afford. Of course, for those who do want the best of the best, the top trim models will pull out all of the stops and give you a luxury ride like you've never seen before.
Experience Lexus Luxury for Yourself
If you're in the market for premium luxury in a full-size SUV that hits all the marks, the Lexus GX 460 might be just what you need. Check out the various models available and find the perfect trim for your needs. Whether you buy a premium model or something more baseline, you'll find plenty of features to love. With third-row seating and plenty of cargo space, there's room for everything and everyone, and the robust infotainment system will ensure that you have everything at your fingertips. Test drive this luxury SUV today, and you may never buy the base model again.